Melbet Deposits
We offer our customers the most modern and fastest payment methods! Melbet accepts deposits from all over the world and in all different currencies. For Bangladesh residents will be especially happy to deposit BDT! This will allow you to avoid money losses on currency conversions. Not an unimportant fact – we do not charge extra commission for transfers.
For new customers making their first deposit, we offer a generous bonus! You can get from 100 to 300% bonus money in your game account. Make a deposit and get your bonus money.
How to Make a Deposit at Melbet?
If you haven't registered at Melbet yet, then you better do it quickly. Only users who have a personal account can make a deposit and bet. You can create an account and make deposits not only on the official website but also on the Melbet mobile app. A wide range of payment systems and methods is available for a deposit. Thanks to this each player is guaranteed to find a convenient way. To deposit to the game account you need to go through a few simple steps. Below you will find detailed instructions on how to do it.
1
Open Melbet official website or mobile app. Regardless of the platform, the algorithm of actions will be the same.
2
Log in to your existing account or create a new one. This will take no more than 2 minutes. During the registration process, you choose the currency you'll be paying with right away.
3
After signing into your account, go to the main page of the application/site and at the top find the "Deposit" button. It is highlighted in green.
4
After opening a new page, make sure you see the systems available in your area. To do this, check the box next to the appropriate item.
5
Choose the method that seems most convenient to you. Do not forget that depending on the selected method, the time of transfer may vary.
6
After choosing the payment system, a separate page will appear. Enter the amount you want to transfer. If you want, specify your phone number and e-mail. The data you enter will not fall into the hands of criminals.
7
Enter the card details or other data about your payment system. Read carefully what the system requires from you.
8
Confirm the transfer with the "Checkout" button. After confirming the transfer wait until the money is in your account and you can place bets.
Deposit time
When transferring money pay attention to deposit time. Some payment systems require different processing times. Usually, Melbet deposits money to your betting account almost immediately. The time of withdrawal or crediting may change due to some technical reasons. Or in cases where the administration requires additional confirmation from the client. Withdrawal of funds may take a little longer: from 15 minutes to 3 days. The slowest method is bank transfer and debit cards.
Deposits methods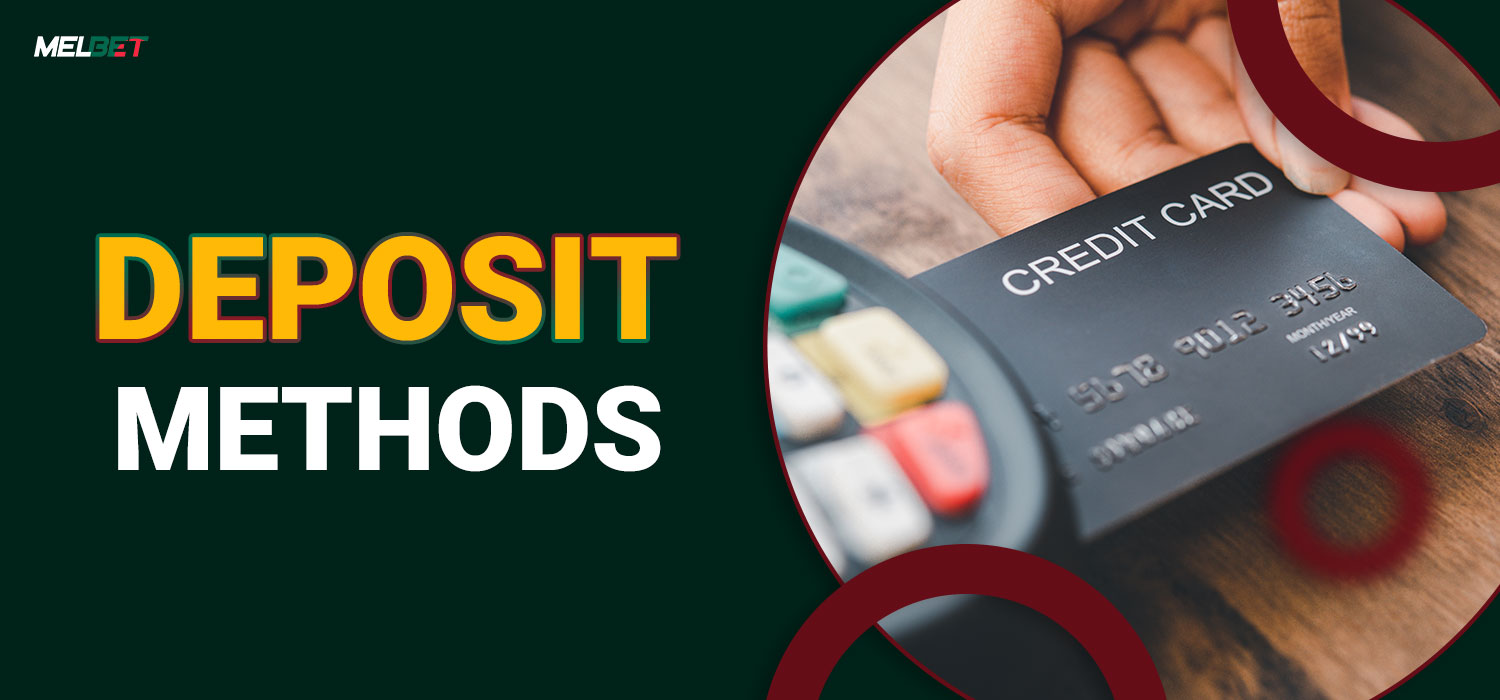 To deposit, you need to choose a payment system. We offer only high-quality and trusted payment services for our clients. All bank transfers are performed with the user's permission and do not take much of your time. The most popular method at the moment is cryptocurrency. Transactions with electronic money have full confidentiality. Check out all available ways to deposit Melbet.
| Deposit method | Min. Limit | Max. Limit | Deposit Time |
| --- | --- | --- | --- |
| Credit Cards | 5 BDT | Unlimited | Less than 1 minute |
| Mastercard | 5 BDT | Unlimited | Less than 1 minute |
| Maestro card | 5 BDT | Unlimited | Depends on the card issuer |
| Wire transfer | 5 BDT | Unlimited | Depends on your bank |
| Skrill | 5 BDT | Unlimited | Instant |
| Neteller | 5 BDT | Unlimited | Instant |
| ePay | 5 BDT | Unlimited | Instant |
| Bitcoin | 5 BDT | Unlimited | Instant |
| TelePay | 5 BDT | Unlimited | Instant |
| WebMoney | 5 BDT | Unlimited | Instant |
E-Wallets
E-wallets have become common among Bangladeshis. Users store their funds in cloud storage and exchange them. Melbet supports payments from e-wallets like Skrill and Neteller. Money is credited instantly and no commission is charged.
Payment Systems
These are electronic platforms through which users can transfer money between accounts, and pay utility bills and other services. Convenient services allow you to transfer money without commissions and in a short time. Among offered Melbet payment systems you can find PayPal and not only.
E-Currency Exchangers
A digital currency exchanger is a person or business that acts as an online market-maker and exchanges legal tender and other electronic currencies for electronic currencies, and vice versa, for a commission. Melbet clients can use Binance to exchange electronic money and fund their accounts.
Internet Banking
Transfers are made within your bank and you can track them on your account statement. In a few clicks, your funds will be credited to your gaming account. This method is considered one of the slowest. Confirmation of the transaction may take several hours. Keep that in mind when transferring money.
Cryptocurrency
Cryptocurrency payments are very recent and already in high demand. Use Ethereum, and Bitcoin for instant deposits with no fees.
Deposit Limit
Limits were developed for the correct operation of banking systems. You will not be able to deposit less or more than a certain amount to your account. Depending on the system you choose, minimum and maximum limits will change. Cryptocurrency payments and transfers from e-wallets have the most loyal amounts.
The minimum limit of almost all available methods is 5 BDT. This is a small amount for a single deposit.
For details about the maximum limits, you can go to the "deposit and withdrawal" section on the website or in the Melbet app. There you will find up-to-date information.
Currency
Melbet is an international company and we try to make things easy for all of our customers. Residents of Bangladesh can use their local currency as well as USD and EUR for payment transactions. When registering, specify the desired currency in which your account will be opened. Later on, you will not lose any money on conversion.
Customer Support & Services
Customer support service provides a comfortable user experience and helps to resolve any questions. Professional consultants are ready to help at any time, 24 hours a day, 7 days a week. You can contact technical support both on the website and in the Melbet application. Available for communication:
Online chat. The dialogue between the client and the specialist takes place in real-time, and you can solve any problem in the shortest time. The answer comes within a couple of minutes. You can also choose the language you feel comfortable communicating with a manager.
E-mail. Here the answer may come a little later. Mail messages are dealt with as far as possible by specialists. You can ask in an email your questions, describe a problem or leave your wishes on the work.
FAQ
Do I have to confirm my account before making a deposit?

Yes. All you have to do is take a photo of your ID and proof of residency. Send these photos to support and wait for confirmation.

How often can I make a deposit?

There is no limit here. You can make small transactions or make a large amount at once.

May Melbet ask for additional confirmation?

Yes. Melbet reserves the right to refuse or request any additional confirmation from the client. If there is no such need, your money will be credited immediately.

What should I do if I am unable to deposit money into my account?

In this case, you should independently check the specified details for payment. After that, carefully read the terms of the deposit. If you do not find violations on your part, then contact support.